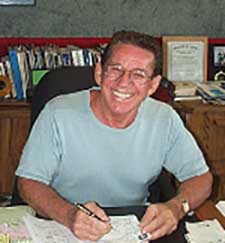 If you've ever met Jim Franco, CEO of Autologue, in person, you know he is a force to be reckoned with. Energetic, vibrant and focused, Franco never allows anyone to dictate or limit what he chooses to accomplish.
In 1961, at the age of 18, after being told he was too young, Jim acquired a Union Oil Service Station. It was two months after graduating from high school. He was the youngest Union Oil Dealer in the history of the company. In 1965, he entered the parts business. Jim opened a Big A Auto Parts store, once again he was the youngest Big A Jobber in the history of American Parts System. During the next 22 years, Jim added a large machine shop, Production Engine Rebuilders, an 8-bay service center, a Warehouse and three additional retail locations. The company grew into a multimillion-dollar organization.
In the mid 1970's, Jim was introduced to his first computer systems. He purchased a Triad Management System, to control and improve the auto parts business. At that time the computer did not have point of sale capability, nor could it manage accounts receivable, or receive purchase orders. It was simply an electronic inventory posting machine. In the late 1970's Jim encountered Safeguard Business Systems, they asked him to be on an advisory council. They wanted input to design a point-of-sale system for the automotive aftermarket. That was the beginning of what would become Autologue Computer Systems.
In the early 80s, Safeguard asked Jim to install the Autologue System in his auto parts stores and become an Autologue Distributor. By 1984, Jim was named the #1 Autologue Sales Distributor.
In early 1985, Safeguard wanted to sell Autologue Computer Systems. They had been unprofitable for six consecutive years. Jim, always looking for a new challenge, acquired Autologue from Safeguard, and moved the company from New Jersey to Fullerton, CA. In 1986, he sold his auto parts stores and dedicated all of his time to Autologue. He also moved the company to its present facility in Buena Park, CA.
Autologue continues to grow and develop new software for all of our more than 5000 locations worldwide.